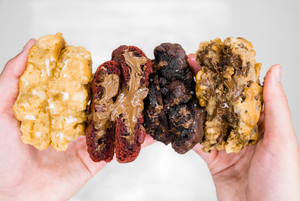 OUR STORY
The story of Furlough & Dough was sour before it became sweet.  We've always had a passion for the culinary arts; collecting French pastry books, scouring blogs, discovering restaurants, learning from renowned chefs & bakers, and of course binging every food documentary. This passion was just an indulgence. A cushy job at a luxury fashion brand made sure of it. But March 2020 that all changed. NYC locked down, and a zoom call came up. "Hi everyone. You have been furloughed." Suddenly we realized that "furlough" means "no dough," and a few stress bake-offs later, with the help of a hungry partner, Furlough & Dough was born.
With mentorship from French-trained pastry chefs, we've made what we believe are the best cookies we've ever had. We can't wait for you and your friends to enjoy them. One bite is all it takes. ❤️🍪
___________________________
We're committed to donating at least 2% of our sales towards feeding the hungry. Every month we will support local food drives and charities that fight hunger.